Regular price
Rs.85,000.00 PKR
Regular price
Sale price
Rs.85,000.00 PKR
Unit price
per
Sale
Sold out
Size Chart
Share
View full details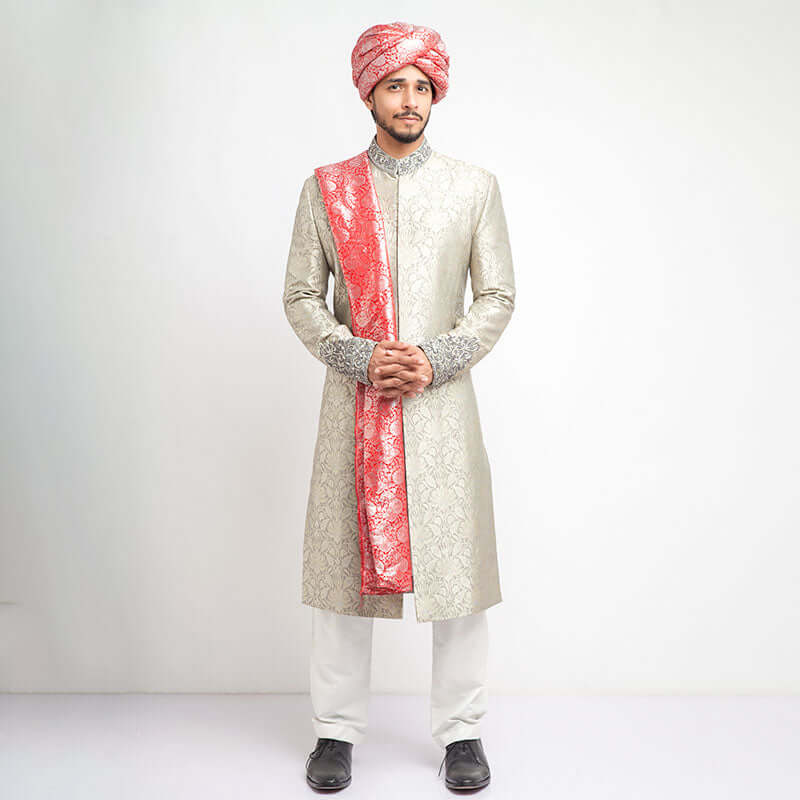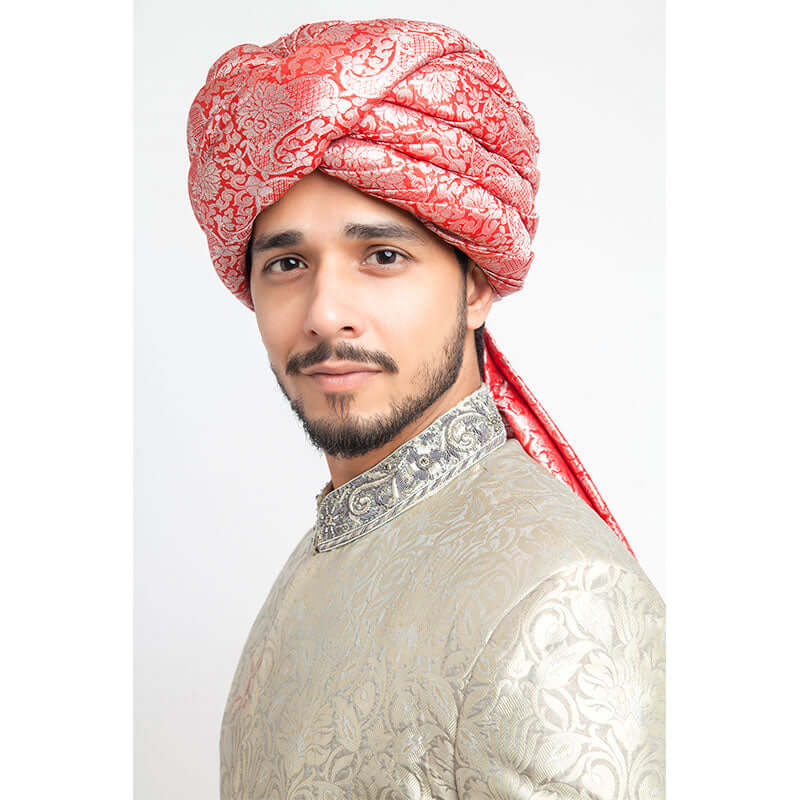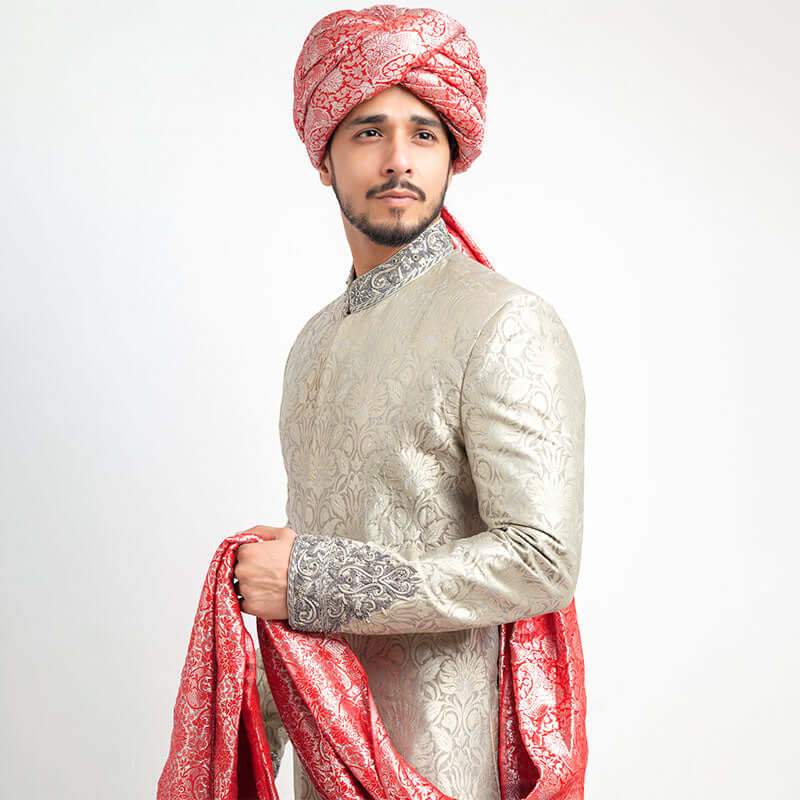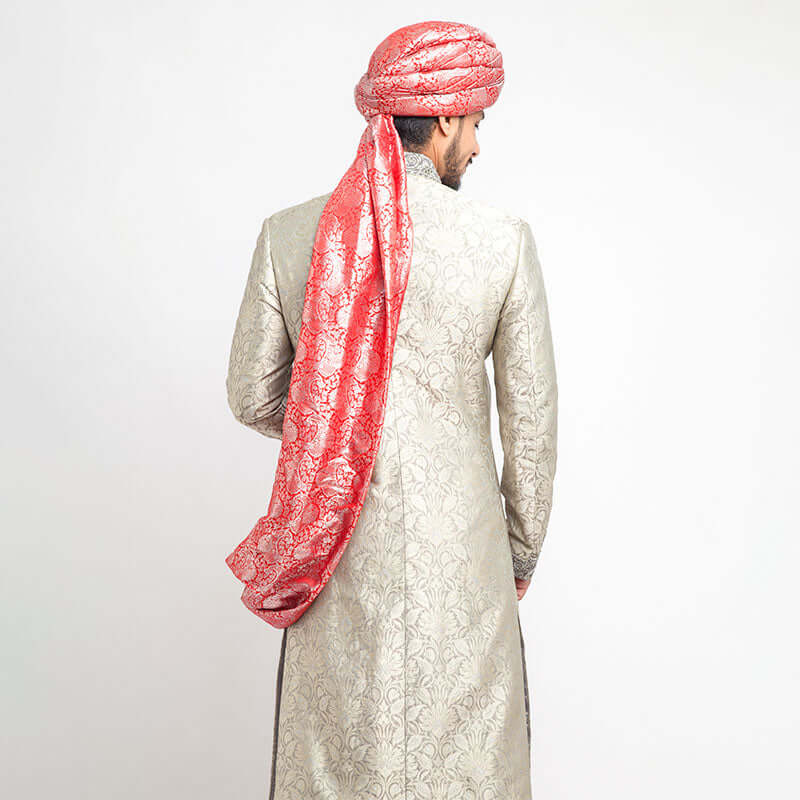 Size Chart
Sherwani
| | | | | |
| --- | --- | --- | --- | --- |
| Size | S | M | L | XL |
| Collar | 16 | 16.5 | 17 | 17.5 |
| Length | 45 | 46 | 47 | 47 |
| Shoulder | 19 | 20 | 21 | 22 |
| Cross Back | 16.5 | 17 | 17.5 | 18 |
| Sleeves Length | 24.5 | 25 | 25.5 | 26 |
| Sleeves Length Round | 5.75 | 6 | 6.25 | 6.5 |
| Chest | 42 | 44 | 46 | 48 |
| Waist | 38 | 40 | 42 | 44 |
| Front Kaaj | 9 | 9 | 9 | 9 |
Prince Coat 
| | | | | | |
| --- | --- | --- | --- | --- | --- |
| | S | M | L | XL | XXL |
| Collar | 16 | 16.5 | 17 | 17.5 | 18.5 |
| Length | 28 | 30 | 30 | 31 | 32 |
| Shoulder | 18 | 18.5 | 19 | 20 | 21 |
| Cross Back | 16 | 16.5 | 17 | 17.5 | 18.5 |
| Sleeves  | 24.5 | 25 | 25.5 | 25.5 | 26 |
| Sleeves round | 5.5 | 5.75 | 6 | 6.25 | 6.5 |
| Chest | 40 | 42 | 44 | 48 | 50 |
| Waist | 36 | 38 | 40 | 46 | 48 |
Inner Kurta
| | | | | |
| --- | --- | --- | --- | --- |
| | S | M | L | XL |
| Kneck size | 16 | 16.5 | 17 | 17.5 |
| Length | 39 | 40 | 41 | 42 |
| Shoulder | 18.5 | 19 | 19.5 | 20 |
| Sleeve Length | 23.5 | 24 | 24.5 | 25 |
| Chest | 21.5 | 22.5 | 23.5 | 24 |
| Waist | 20.5 | 21.5 | 22.5 | 23.5 |
Trouser
| | | | | |
| --- | --- | --- | --- | --- |
| Size | S | M | L | XL |
| Length | 40.5 | 41.5 | 42.5 | 42.5 |
| Waist | 29 | 30 | 30 | 32 |
| Bottom | 16.5 | 16.5 | 17 | 17 |
Choori Dar Pajama
| | | | | |
| --- | --- | --- | --- | --- |
| Size | S | M | L | XL |
| Length | 53 | 55 | 57 | 57 |
| Bottom | 6 | 6.5 | 6.5 | 07 |
| Aasan | 17 | 17.5 | 17.5 | 18 |
Description
Indulge in the subtle elegance of our Ash Grey Pure Brocade Silk Sherwani. The exquisite zardozi embroidery on the collar and sleeve hems infuses the sherwani with a regal flair, creating a showstopping ensemble that is both classy and modern. The shimmering brocade silk fabric, woven with intricate motifs, adds depth and richness to the ash grey hue, making it a striking piece that will stand out at any special occasion.
The story behind this sherwani is woven into the fabric itself. Brocade, a centuries-old weaving technique, has been passed down through generations, blending tradition with contemporary fashion. The zardozi embroidery, a skilled craft perfected by artisans over centuries, lends a timeless appeal to the sherwani, showcasing an art form that celebrates India's rich cultural heritage.
This versatile sherwani is ideal for a wide array of special occasions, from weddings and receptions to festivals and cultural events. Its subtle ash grey color makes it a perfect choice for both day and evening events. The set includes an Inner Kurta & Trousers in your choice of color, and handmade embroidered Khussas, completing the sophisticated look. With complete customization options available and a vast selection of fabrics, this sherwani can be tailored to suit your unique style and preferences.