Regular price
Rs.75,000.00 PKR
Regular price
Sale price
Rs.75,000.00 PKR
Unit price
per
Sale
Sold out
Size Chart
Share
View full details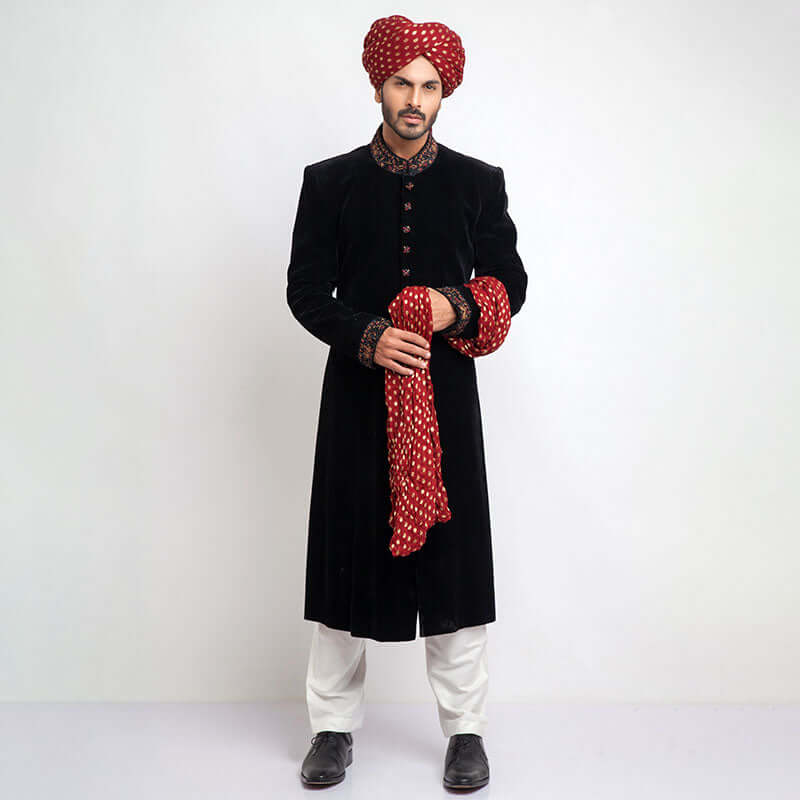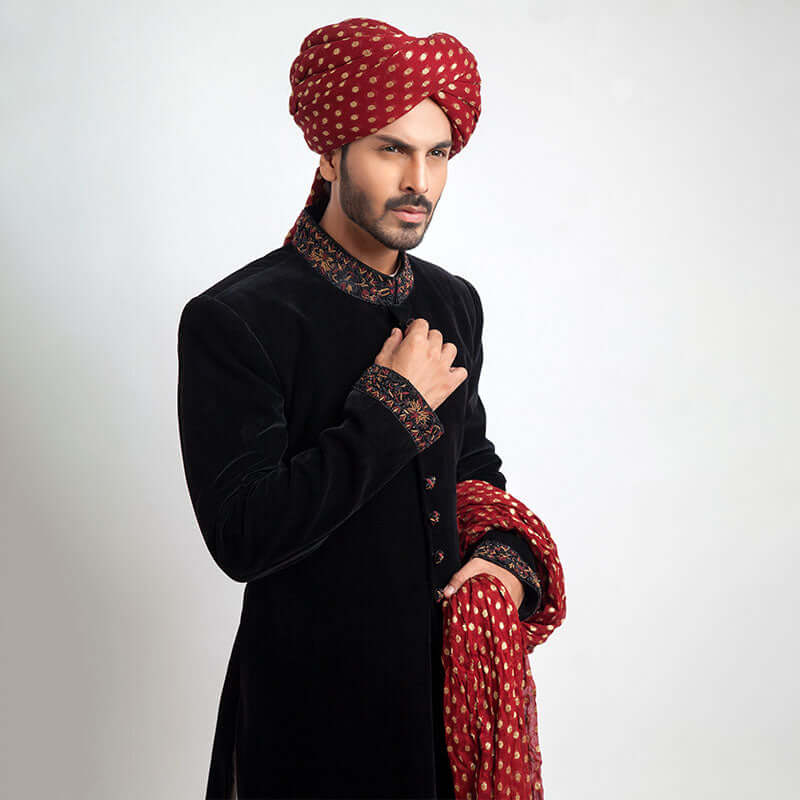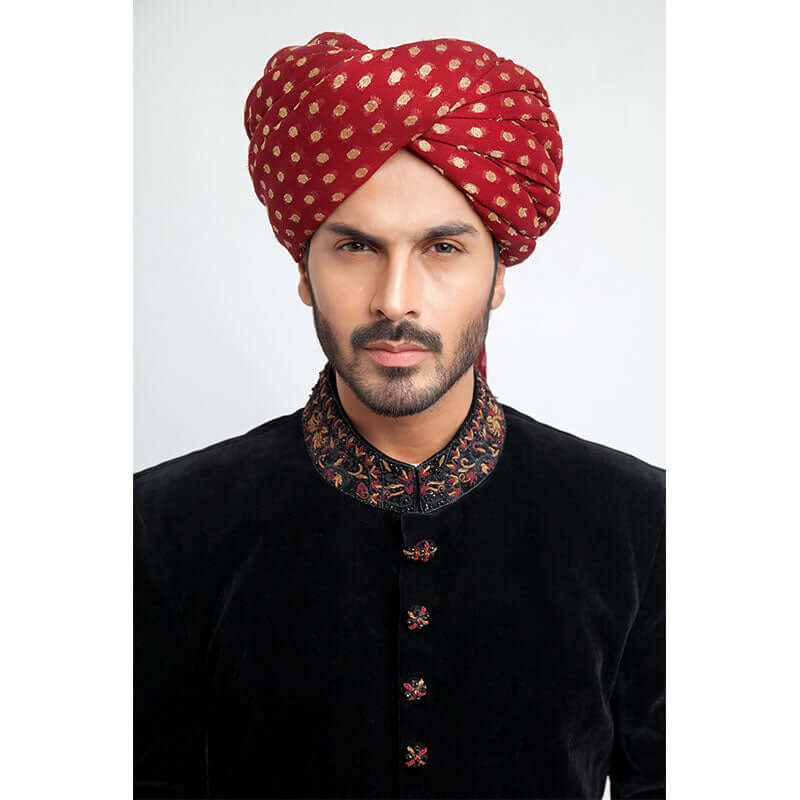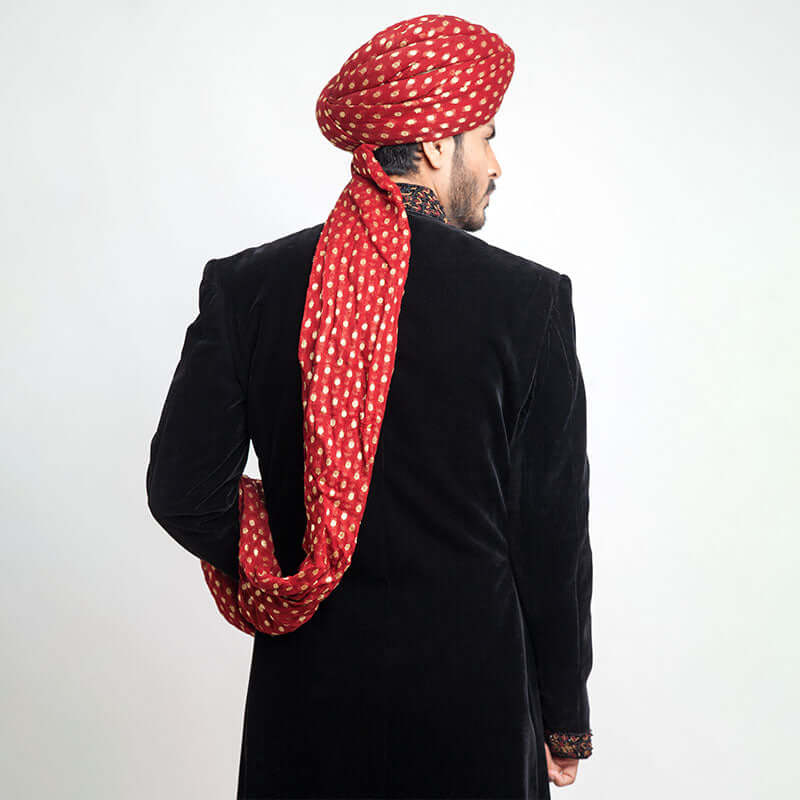 Size Chart
Sherwani
| | | | | |
| --- | --- | --- | --- | --- |
| Size | S | M | L | XL |
| Collar | 16 | 16.5 | 17 | 17.5 |
| Length | 45 | 46 | 47 | 47 |
| Shoulder | 19 | 20 | 21 | 22 |
| Cross Back | 16.5 | 17 | 17.5 | 18 |
| Sleeves Length | 24.5 | 25 | 25.5 | 26 |
| Sleeves Length Round | 5.75 | 6 | 6.25 | 6.5 |
| Chest | 42 | 44 | 46 | 48 |
| Waist | 38 | 40 | 42 | 44 |
| Front Kaaj | 9 | 9 | 9 | 9 |
Prince Coat 
| | | | | | |
| --- | --- | --- | --- | --- | --- |
| | S | M | L | XL | XXL |
| Collar | 16 | 16.5 | 17 | 17.5 | 18.5 |
| Length | 28 | 30 | 30 | 31 | 32 |
| Shoulder | 18 | 18.5 | 19 | 20 | 21 |
| Cross Back | 16 | 16.5 | 17 | 17.5 | 18.5 |
| Sleeves  | 24.5 | 25 | 25.5 | 25.5 | 26 |
| Sleeves round | 5.5 | 5.75 | 6 | 6.25 | 6.5 |
| Chest | 40 | 42 | 44 | 48 | 50 |
| Waist | 36 | 38 | 40 | 46 | 48 |
Inner Kurta
| | | | | |
| --- | --- | --- | --- | --- |
| | S | M | L | XL |
| Kneck size | 16 | 16.5 | 17 | 17.5 |
| Length | 39 | 40 | 41 | 42 |
| Shoulder | 18.5 | 19 | 19.5 | 20 |
| Sleeve Length | 23.5 | 24 | 24.5 | 25 |
| Chest | 21.5 | 22.5 | 23.5 | 24 |
| Waist | 20.5 | 21.5 | 22.5 | 23.5 |
Trouser
| | | | | |
| --- | --- | --- | --- | --- |
| Size | S | M | L | XL |
| Length | 40.5 | 41.5 | 42.5 | 42.5 |
| Waist | 29 | 30 | 30 | 32 |
| Bottom | 16.5 | 16.5 | 17 | 17 |
Choori Dar Pajama
| | | | | |
| --- | --- | --- | --- | --- |
| Size | S | M | L | XL |
| Length | 53 | 55 | 57 | 57 |
| Bottom | 6 | 6.5 | 6.5 | 07 |
| Aasan | 17 | 17.5 | 17.5 | 18 |
Description
Make a bold style statement with our Jet Black Cocktail Velvet Form-Fitted Sherwani. Crafted meticulously from opulent cocktail velvet, this Sherwani is an epitome of traditional grandeur and modern refinement. The Sherwani is adorned with intricate zardozi embroidery on the collar, sleeve hems, and buttons, adding an ethereal charm to the ensemble. Its form-fitted design ensures a sleek and flattering silhouette, an attribute that enhances the wearer's confidence and charisma.
The concept behind this Sherwani originated in the royal courts of ancient India, where black was considered a color of power and sophistication. The zardozi embroidery, a form of ornamental embroidery that utilizes gold and silver threads, was inspired by the clothing of Persian and Mughal emperors. This Sherwani pays homage to that rich cultural heritage while incorporating the silhouette of modern form-fitted design to cater to the fashion-forward man.
The timeless black shade of this Sherwani makes it a versatile choice for all seasons and occasions. Based on color theory, black is often associated with power, elegance, formality, and mystery, making it a perfect color for grand evening occasions. In many cultures, black is considered an auspicious color for festive occasions and wedding ceremonies, as it is believed to ward off negative energy. Whether it's a formal reception, a gala night, or a festive celebration, the Jet Black Cocktail Velvet Form-Fitted Sherwani promises to be your go-to ensemble, ensuring you stand out with an air of majesty and grace.