Regular price
Rs.60,000.00 PKR
Regular price
Sale price
Rs.60,000.00 PKR
Unit price
per
Sale
Sold out
Size Chart
Share
View full details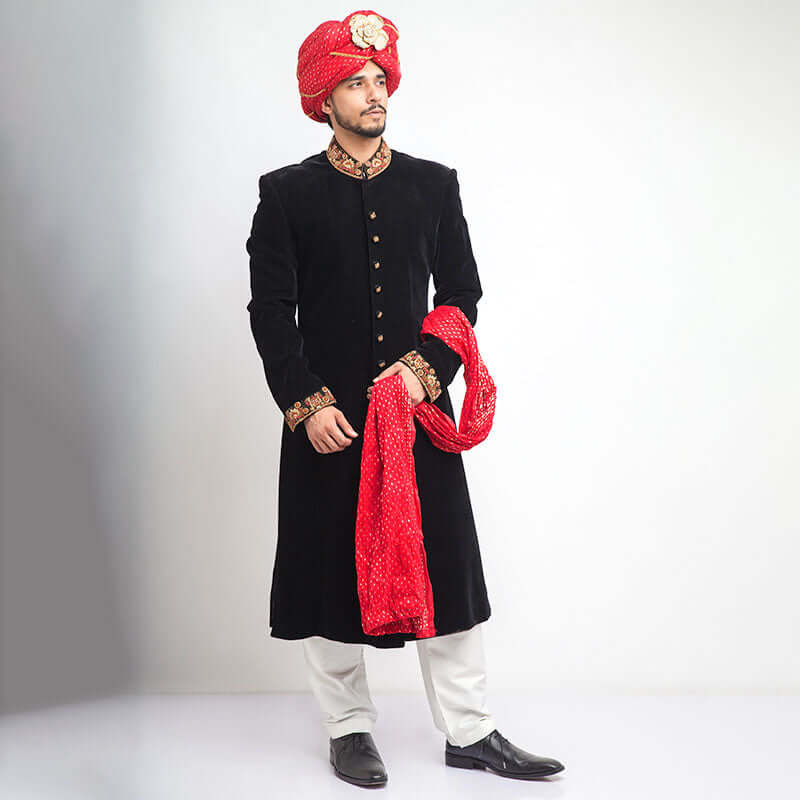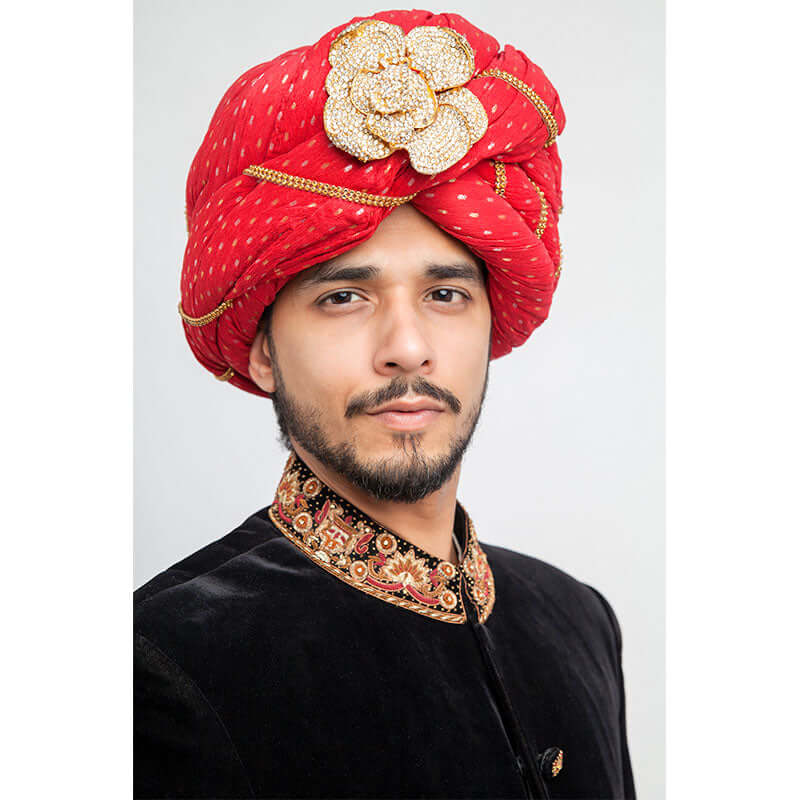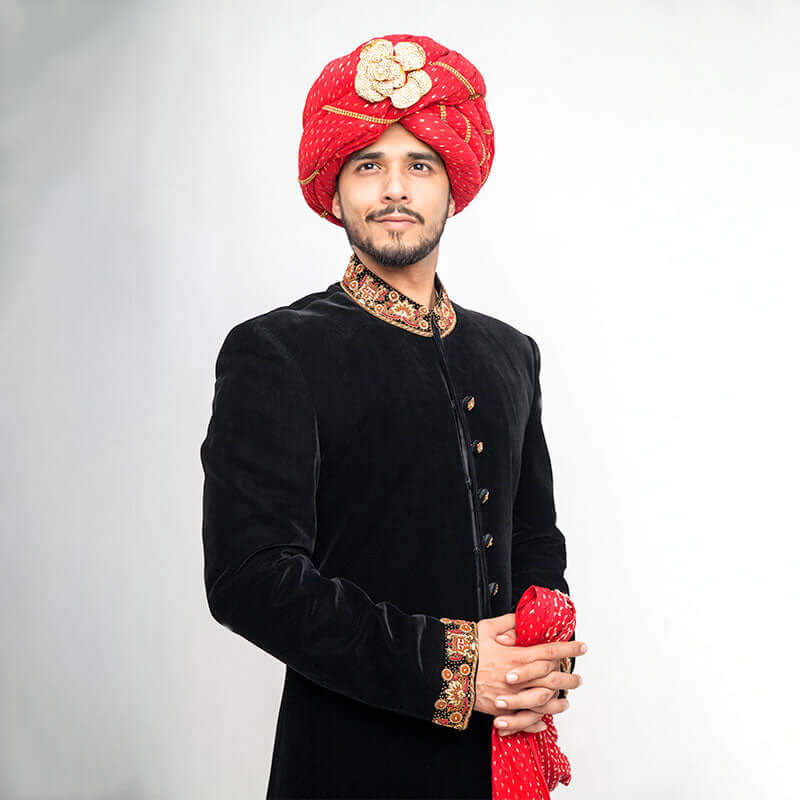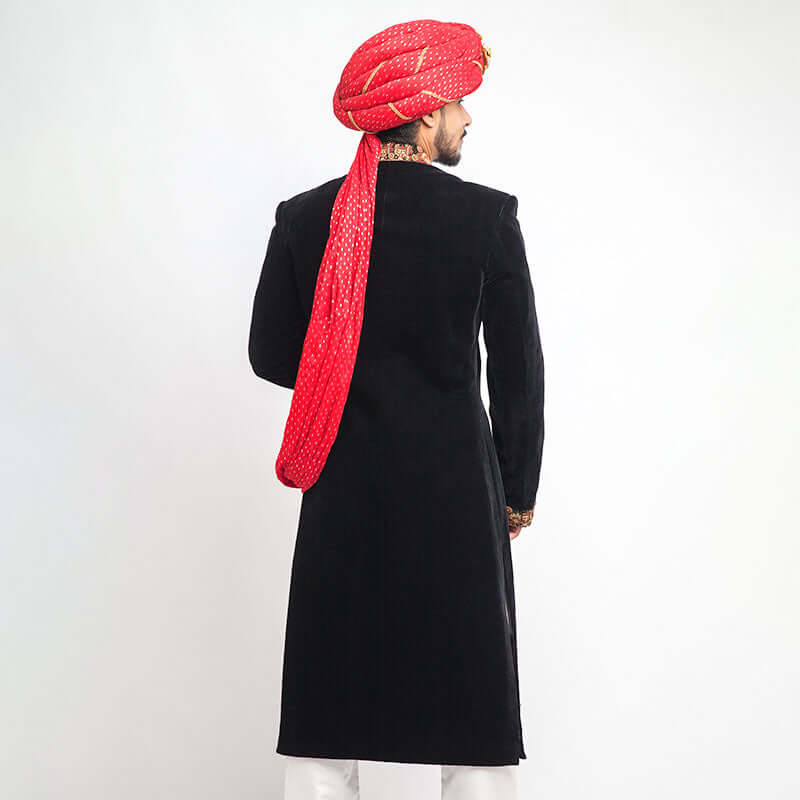 Size Chart
Sherwani
| | | | | |
| --- | --- | --- | --- | --- |
| Size | S | M | L | XL |
| Collar | 16 | 16.5 | 17 | 17.5 |
| Length | 45 | 46 | 47 | 47 |
| Shoulder | 19 | 20 | 21 | 22 |
| Cross Back | 16.5 | 17 | 17.5 | 18 |
| Sleeves Length | 24.5 | 25 | 25.5 | 26 |
| Sleeves Length Round | 5.75 | 6 | 6.25 | 6.5 |
| Chest | 42 | 44 | 46 | 48 |
| Waist | 38 | 40 | 42 | 44 |
| Front Kaaj | 9 | 9 | 9 | 9 |
Prince Coat 
| | | | | | |
| --- | --- | --- | --- | --- | --- |
| | S | M | L | XL | XXL |
| Collar | 16 | 16.5 | 17 | 17.5 | 18.5 |
| Length | 28 | 30 | 30 | 31 | 32 |
| Shoulder | 18 | 18.5 | 19 | 20 | 21 |
| Cross Back | 16 | 16.5 | 17 | 17.5 | 18.5 |
| Sleeves  | 24.5 | 25 | 25.5 | 25.5 | 26 |
| Sleeves round | 5.5 | 5.75 | 6 | 6.25 | 6.5 |
| Chest | 40 | 42 | 44 | 48 | 50 |
| Waist | 36 | 38 | 40 | 46 | 48 |
Inner Kurta
| | | | | |
| --- | --- | --- | --- | --- |
| | S | M | L | XL |
| Kneck size | 16 | 16.5 | 17 | 17.5 |
| Length | 39 | 40 | 41 | 42 |
| Shoulder | 18.5 | 19 | 19.5 | 20 |
| Sleeve Length | 23.5 | 24 | 24.5 | 25 |
| Chest | 21.5 | 22.5 | 23.5 | 24 |
| Waist | 20.5 | 21.5 | 22.5 | 23.5 |
Trouser
| | | | | |
| --- | --- | --- | --- | --- |
| Size | S | M | L | XL |
| Length | 40.5 | 41.5 | 42.5 | 42.5 |
| Waist | 29 | 30 | 30 | 32 |
| Bottom | 16.5 | 16.5 | 17 | 17 |
Choori Dar Pajama
| | | | | |
| --- | --- | --- | --- | --- |
| Size | S | M | L | XL |
| Length | 53 | 55 | 57 | 57 |
| Bottom | 6 | 6.5 | 6.5 | 07 |
| Aasan | 17 | 17.5 | 17.5 | 18 |
Description
Step into a realm of timeless tradition with our Jet Black Cocktail Velvet Form Fitted Sherwani formen. Tailored with utmost precision, the plush jet black velvet creates an aura of refined elegance. The zardozi embroidered collar and sleeve hems are masterpieces in themselves, highlighting the meticulous craftsmanship that goes into creating this ensemble.
This sherwani formen carries tales from the grand courtyards of ancient Indian palaces, echoing the elegance of bygone eras. Every thread spun into the zardozi embroidery narrates a story of skilled artisans who, under starlit skies, wove dreams and legends into fabric, ensuring the wearer would be the cynosure of every eye.
Given the opulent design and the deep jet black hue, this sherwani formen is the quintessential choice for evening reception ceremonies. The luxurious velvet pairs splendidly with the cool winter nights, making it an exceptional attire for winter weddings or grand soirées. With the package including an inner kurta, trousers in your preferred color, and intricately embroidered handmade Khussas, you're not just wearing an outfit but an embodiment of cultural heritage tailored to modern tastes.