Regular price
Rs.65,000.00 PKR
Regular price
Sale price
Rs.65,000.00 PKR
Unit price
per
Sale
Sold out
Size Chart
Share
View full details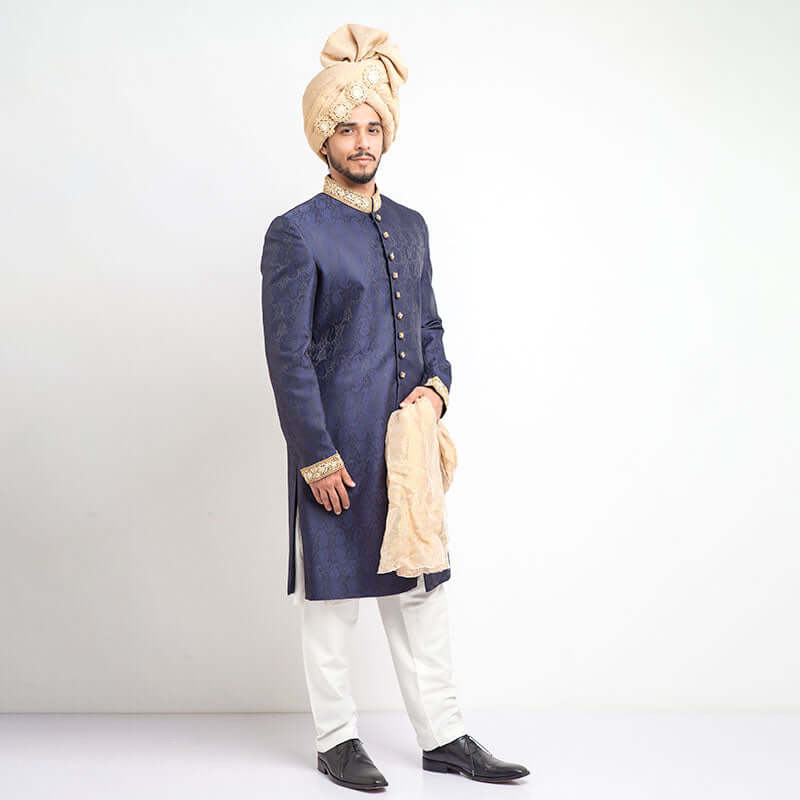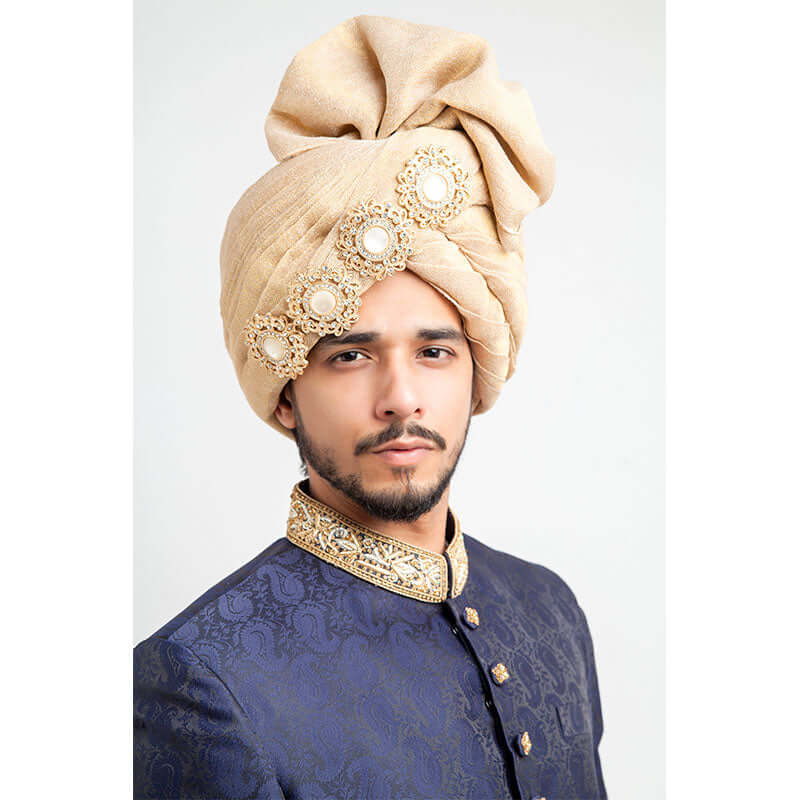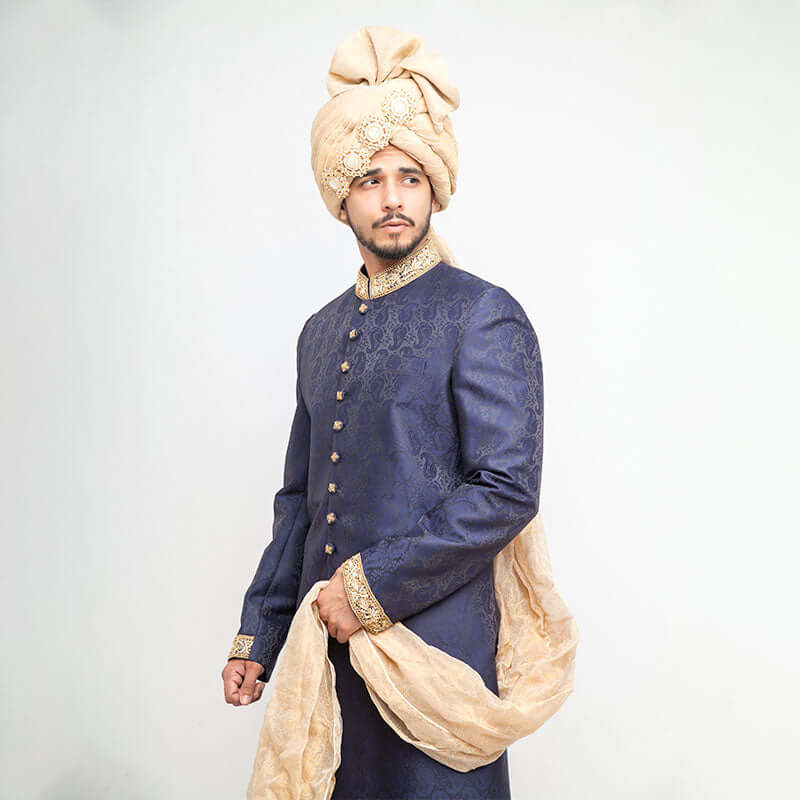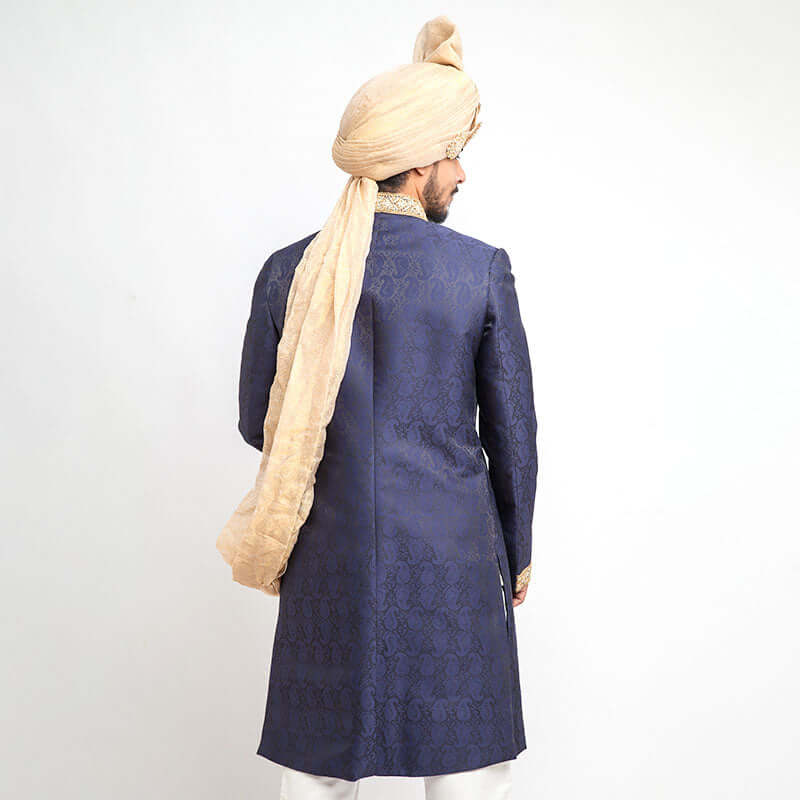 Size Chart
Sherwani
| | | | | |
| --- | --- | --- | --- | --- |
| Size | S | M | L | XL |
| Collar | 16 | 16.5 | 17 | 17.5 |
| Length | 45 | 46 | 47 | 47 |
| Shoulder | 19 | 20 | 21 | 22 |
| Cross Back | 16.5 | 17 | 17.5 | 18 |
| Sleeves Length | 24.5 | 25 | 25.5 | 26 |
| Sleeves Length Round | 5.75 | 6 | 6.25 | 6.5 |
| Chest | 42 | 44 | 46 | 48 |
| Waist | 38 | 40 | 42 | 44 |
| Front Kaaj | 9 | 9 | 9 | 9 |
Prince Coat 
| | | | | | |
| --- | --- | --- | --- | --- | --- |
| | S | M | L | XL | XXL |
| Collar | 16 | 16.5 | 17 | 17.5 | 18.5 |
| Length | 28 | 30 | 30 | 31 | 32 |
| Shoulder | 18 | 18.5 | 19 | 20 | 21 |
| Cross Back | 16 | 16.5 | 17 | 17.5 | 18.5 |
| Sleeves  | 24.5 | 25 | 25.5 | 25.5 | 26 |
| Sleeves round | 5.5 | 5.75 | 6 | 6.25 | 6.5 |
| Chest | 40 | 42 | 44 | 48 | 50 |
| Waist | 36 | 38 | 40 | 46 | 48 |
Inner Kurta
| | | | | |
| --- | --- | --- | --- | --- |
| | S | M | L | XL |
| Kneck size | 16 | 16.5 | 17 | 17.5 |
| Length | 39 | 40 | 41 | 42 |
| Shoulder | 18.5 | 19 | 19.5 | 20 |
| Sleeve Length | 23.5 | 24 | 24.5 | 25 |
| Chest | 21.5 | 22.5 | 23.5 | 24 |
| Waist | 20.5 | 21.5 | 22.5 | 23.5 |
Trouser
| | | | | |
| --- | --- | --- | --- | --- |
| Size | S | M | L | XL |
| Length | 40.5 | 41.5 | 42.5 | 42.5 |
| Waist | 29 | 30 | 30 | 32 |
| Bottom | 16.5 | 16.5 | 17 | 17 |
Choori Dar Pajama
| | | | | |
| --- | --- | --- | --- | --- |
| Size | S | M | L | XL |
| Length | 53 | 55 | 57 | 57 |
| Bottom | 6 | 6.5 | 6.5 | 07 |
| Aasan | 17 | 17.5 | 17.5 | 18 |
Description
Experience timeless elegance with our Navy Blue Jamavar Silk Form Fitted Sherwani for men, a classic piece that epitomizes the grandeur of traditional craftsmanship. Made from luxurious Jamavar silk, this sherwani formen is not only a work of art but also a statement of refined taste.
The rich navy blue fabric is complemented by the exquisite zardozi embroidery on the collar and sleeve hems. Each stitch reflects the meticulous attention to detail and the heritage of skilled artisans who have handcrafted this piece. The form-fitted design ensures a tailored look, making you stand out on any special occasion.
Whether it's a wedding, engagement ceremony, or a grand reception, this sherwani is the perfect choice for events that demand a touch of royalty. The ensemble includes a coordinating Inner Kurta & Trousers in your choice of color, and handmade embroidered Khussas that add to the regal aura of this outfit. With complete customization options available and a wide variety of fabrics to choose from, this sherwani for men  can be personalized to fit your unique sartorial needs.